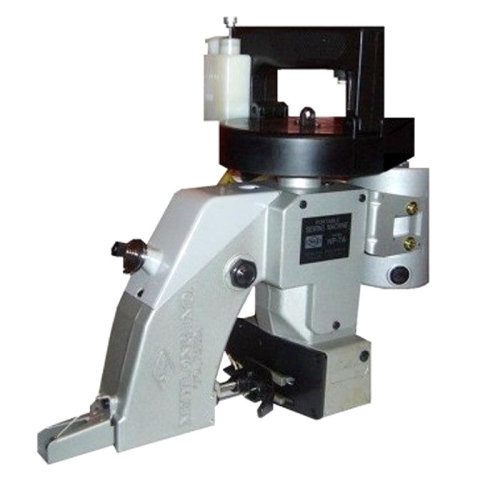 Download Brochures

Kameo_NP-7A.pdf
(309kB)
Newlong NP-7A Portable Bag Closing Machine
Description
The Newlong NP-7A is a high-speed, single thread chain stitch portable bag closer. Considered the gold standard in portable bag stitching equipment, Newlong bag closers are lightweight, durable and reliable.
Specifications
Featuring a 240V fully enclosed motor with a maximum speed of 1,900 rpm, the Newlong bag stitcher will easily handle kraft paper, cotton, hessian, jute, PP/PE woven cloth and other bag materials. It's ideal for closing a range of bags including agricultural and industrial products like animal feeds, fertilisers, flour, chemicals and more.
Special Features
The NP-7A comes standard with an improved looper mechanism, automatic thread cutting, long-life steel cams, fully insulated plastic safety handle and a sealed oil pump lubrication system.
Weighing as little as 6kg, the NP-7A is the perfect hand-held sewing machine for just about any agricultural, commercial or industrial application. While the machine is easy enough to handle on it's own, it's also compatible with various handling accessories including presser foot lifters, shoulder belts and spring balance units.
In our opinion, it's the most reliable portable bag closing machine on the market. And when you factor in the Newlong NP-7A price, you can't go wrong.
Our Service
The NP-7A is available for online order now. We offer express delivery Australia-wide and can organise same-day dispatch for orders placed before 11am.
As an added bonus, when you order the NP-7A, we'll give you a free starter pack, which includes:
2x 250g 6-ply white thread cones

5x spare needles

Accessories kit with oil bottle and tools

Full instruction and spare parts manual

Ongoing after-sales support and technical advice
We also stock a full range of spare parts, needles and threads and we can handle all repairs, servicing and maintenance for all bag closer makes and models including Newlong, Fischbein, YaoHan, Union Special and more.
Contact Us Today
If you're not sure if the NP-7A is right for you, contact us today on (03) 9464 3074. Our friendly team can run you through the machine's technical specs and help you decide if this is the right model for your business.
Additional Information
Machine Weight:
7.5kg
Dimensions (cm):
37 × 28 × 40
Brands We Service