Servicing your Bag Closing Machine
Service, Repairs & Spare Parts
Service, Repairs and Spare Parts are available for all types of Portable Bag Closing Machines, Heavy Duty and Auto Bag Closing Machines.
Our Workshop with qualified Sewing Machine Mechanic has extensive parts for Newlong, YaoHan, Fischbein, Union Special machines and others.
If you are looking for Spare Parts or would like to book your machine in for a Service or Repair, please call Kameo on (03) 9464 3074
More About Our Servicing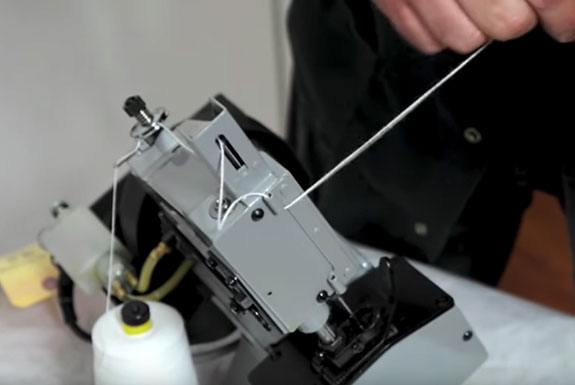 About Kameo
Kameo Ind. Pty. Ltd. is a leading supplier of Portable & Heavy Duty Bag Closing Machines, Bag Sewing Thread and extensive Spare Parts for all makes and models. We are proud to be a family-owned & operated business supporting our customers in agricultural and commercial industries for over 40 years.
Delivery Australia wide.
More About Us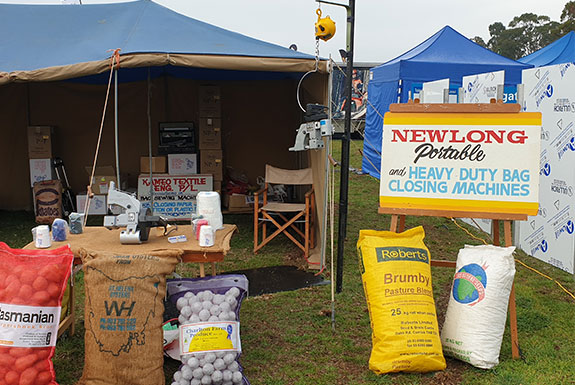 About Our Field Days
Come see us at the Field Days Marquee for On-Site Demonstrations of our Portable Bag Closing Machines, Spring Balance Units and Thread. We regularly exhibit at two Field Days throughout the year. The first is South East Field Day in Lucindale, South Australia (March). The other is Agfest Agricultural Field Days in Carrick, Tasmania (May).
About Our Field Days
Portable and Heavy Duty Bagging & Bag Closing Machines
Kameo is Australia's leading supplier of portable and heavy duty bag sewing machines. We supply a complete range of closing and bagging machines from all the leading brands including Newlong sewing machines, Fischbein, YaoHan, Siruba and Union Special.
Automatic Sewing Equipment & Bag Closers
We offer the best prices on the largest range of bag sewing equipment and industrial, agricultural and commercial bagging systems. Our products include portable bag closing machines, heavy duty and automated bag closers and specialist stitching machines for geofabrics, including sand bags and bunker tarps. All of our bag closing machines are available to order online and can be express shipped Australia-wide.
Effective Yet Friendly Services For All Your Bagging Needs
As a Melbourne-based family-owned business with more than 40 years' experience, we understand the importance of customer service. Our team is always reading to provide friendly technical advice and support. We can help you choose the right bag closer for your business, work with you to troubleshoot your existing bagging system and provide expert advice and after-sales service over the phone.
Sewing Machine Accessories, Supplies & Service
We also stock a full range of spare parts including a wide selection of thread cones, needles and replacement motors. Our team can help you find the specific part you need with minimal hassle. We are always carrying extensive stock in storage and we're ready to ship Australia-wide.
With a team of experienced sewing machine mechanics, you can trust Kameo for all your servicing and repair needs. We are fully equipped to handle all repairs and maintenance on all bagging machine makes and models.
Food-Grade Quality Threads
Our quality thread has been specifically made according to Kameo's high standards with correct twist and tensile strength formulation.
All our thread comes with FOOD-GRADE mineral oil lubrication added in the manufacturing process to make top quality, soft and pliable thread, preventing fluffing and fraying at the needle eye.
Express Delivery For Machines Across Australia
For all machines and spare parts, we offer express delivery across Australia and can provide same-day dispatch on orders placed before 11am.
Speak To Us Today
If you're looking for technical support, troubleshooting or you need to work out which machine is right for your requirements, contact the friendly Kameo team. Give us a call on (03) 9464 3074 or contact us online today.
Brands We Service