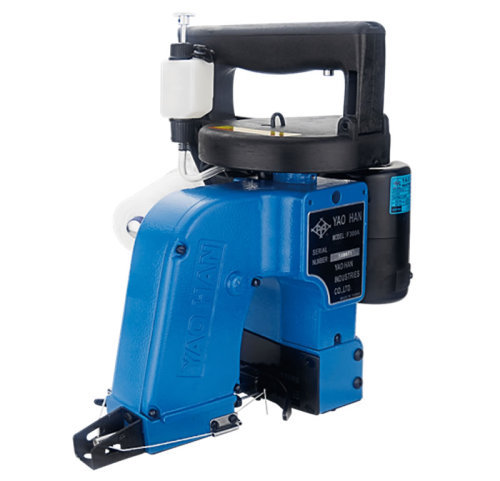 F300A Portable Bag Closer (Fischbein F-Series equivalent)
Description
The F300A (Fischbein F-Series equivalent) is a highly durable and reliable industrial bag closing machine.
Specifications
This single-thread bag stitching machine comes with a fully enclosed 240V motor. Weighing just 5kg, this machine is lightweight and portable. It can comfortably handle a range of bagging materials including multi-wall paper, cotton, PP/PE woven, hessian, jute and more.
Special Features
The F-series comes with a range of great features that make it one of the most versatile, durable and reliable portable bag sewing machines on the market. It features a non-corrosive epoxy finish, an automatic lubrication system, extended-wear bushings, a mechanical thread trimmer and an enhanced needle lever assembly.
It has a quiet but powerful motor that puts out up to 1,750 rpm enabling stitching speeds of 1,800 stitches per minute.
For its size, the Fischbein F-series is one of the most reliable portable bag sewing machines on the market.
Express Service & Free Starter Pack
You can buy the F300A online now. We offer express delivery Australia-wide and can organise same-day dispatch for orders placed before 11 am.
When you buy the F300A from us, you'll get a free starter pack, which includes:
2x 250g 6-ply white thread cones

2x spare needles

Accessories kit with oil bottle and tools

Full instruction and bag closer machine spare parts manual

Ongoing after-sales support and technical advice
We also stock a full range of Fischbein bag closer parts, needles and threads. Our expert team can also handle repairs, servicing and maintenance for all Fischbein bag closers.
Speak To Us
If you're not sure if the F300A is right for you, give us a call us today on (03) 9464 3074. Our friendly team can run you through the machine's technical specs and help you decide if this is the right model for your business.
Brands We Service