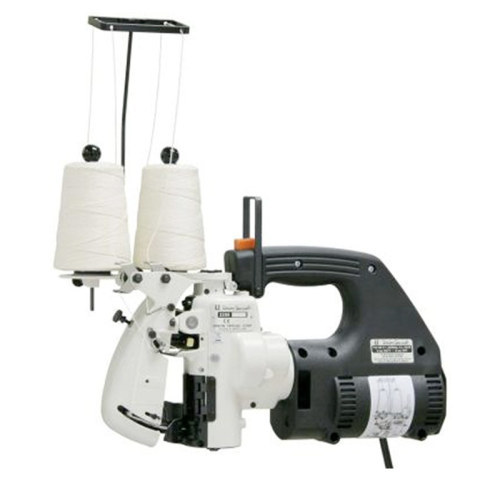 Union Special 2200GAU - 240V Heavy Duty Sewer for Geofabrics
Description
The Union Special 2200 series is the ultimate in portable heavy duty bag closing machines.
This Union Special bag closer is extremely lightweight, weighing just 6kg. But it's still tough enough to handle rugged industrial conditions. It's incredibly well balanced and ergonomically designed to fit the operator's hand for ease of operation.
Special Features
Equipped with coarse feed dogs, the Union Special 2200 series can handle even the toughest geofabrics including sand bags and bunker tarps.
The 2200 Series features a combined upper and lower feed that guarantees an even feed and constant stitch length, even on tough materials. The unit moves itself along as it sews, instead of the operator carrying it along, making it easier to handle, especially with hard-to-feed fabrics.
The 2200 Series can be quickly and easily converted from a two thread double locked stitch type to a single thread chain stitch. You can even set the stitching length to meet different seam specifications.
Specifications
Powered by a fully enclosed 240V motor with long-life motor brushes, the 2200 sewing machine can put out speeds of 1,200 rpm to 1,700 rpm, depending on the material. The machine is fully dustproof and features permanently lubricated motor bearings.
The Union Special 2200GAU is available for online order now. We offer express delivery Australia-wide and can organise same-day dispatch for orders placed before 11am.
Free Starter Pack Available Now
As an added bonus, when you order the Union Special 2200 Series, we'll give you a free starter pack, which includes:
2x 250g 6-ply white thread cones

2x spare needles

Accessories kit with oil bottle and tools

Full instruction and spare parts manual

Ongoing after-sales support and technical advice
We also stock a full range of spare parts, equipment and accessories and needles and threads. Our team of mechanics can handle all repairs, servicing and maintenance for all industrial bag closing machine makes and models including Union Special, Newlong, Fischbein and others.
If you're not sure if the 2200 series is right for you, give us a call today on (03) 9464 3074. Our friendly team can run you through the machine's technical specs and help you decide if this is the right model for your business.
Brands We Service