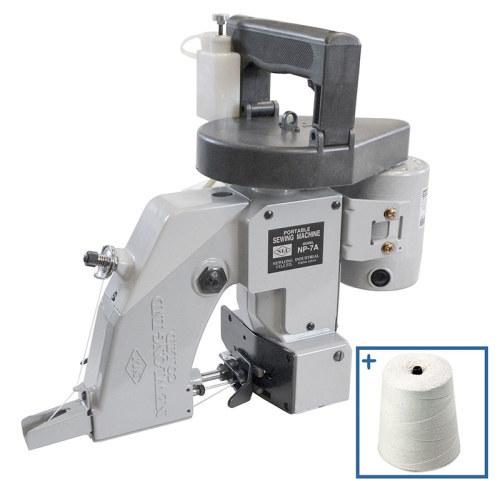 Newlong NP-7A + 1 x Box 250g (60 cones) 20/6 White Thread
Description
The Newlong Model NP-7A, (Single Thread) Portable Bag Closing Machine complete with fully enclosed 240 volt motor and automatic oiling is in stock at all times.
The 'Gold Standard' in Portable Bag Closing Machines.
Fully made in Japan, in our opinion, the most reliable Portable Bag Closing Machine available.
Beware of cheaper, imitation machines. Not all copy machines are made to the same standards.
Easy to use – weighs approx. 6kg
Full after sales Support and Technical advise. All Spare parts, Thread, Needles, Oil and Servicing of machines available.
Included Free with our compliments:
5 x Spare Needles
Accessories Kit – includes Oil bottle, assorted useful tools.
Full Instruction/Spare Parts Manual
Plus
1 Box 250g (60 cones) quality 20/6 Ply, White thread
Our thread is specifically made to Kameo's high standards for twist, tensile strength and FOOD-GRADE mineral oil lubrication added in the manufacturing process. This creates a top quality, strong, and pliable thread, preventing fluffing and fraying at the needle eye.
Delivery Australia Wide
Brands We Service